Paddling on the Telemark Canal is a fascinating experience! Discover everything the canal has to offer from your canoe or kayak; the beautiful landscape, wild animal life and the stunning locks.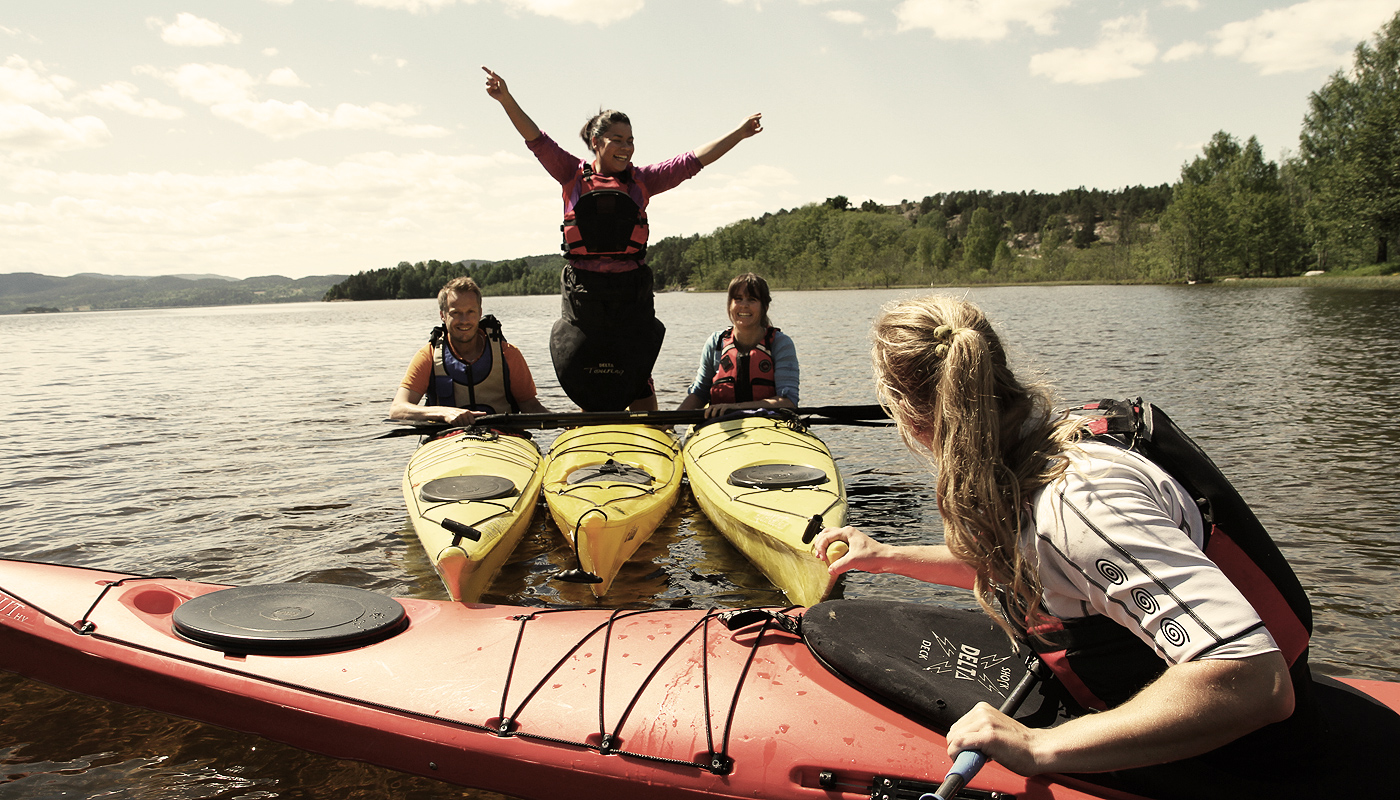 It is also possible to combine paddling on the canal with a boat trip, since the canal boats have the ability to take on board your canoe / kayak. You can paddle one way, and travel back by boat!
Rental of canoe and kayak
Our recommendations for paddling
The perfect trip for the whole family! Paddling near Lunde is considered a «jungle expedition» with its vegetation and beautiful landscape.
A cosy paddling trip where you get to see old piers, birds and most likely other paddlers. The area is part of the Nautesund bird reservoir and near the shoreline on the camping is a tower to spectate these magnificent animals.
Paddling to Vrangfoss
A paddling trip between the locks of Lunde and Vrangfoss will contribute into creating unforgettable memories! Here you have the option to experience the locks firsthand as the lock masters will guide you; since they have done manually since the 19th century.
Tips:
Paddling guide for the Telemark Canal (2015) and 7 mini guides for different paddling trips in the canal (2015) can be ordered at Telemark Tourist in Bø.

Miniguides to 7 paddling trips on the canal can be purchased at Lystang (Nautesund) and Telemark Canal Camping (Lunde).

The book «Paddling guide of Telemark» gives a good and thorough description of paddling in the Telemark Canal.
Timetable and prices for the locks
It is possible to use the locks, our very own «water elevator» in the Telemark Canal. Timetable and prices for the locks you can find here. It is possible to carry your canoe / kayak past the locks if you don't wish to use them. There are carts available at most of the locks.
NB! In Kjeldal lock it isn't possible to use the locks here due to the eletrical fishing barrier.
Paddlers and meeting the canal boats
When paddling on the canal it is important to adjust to the timetable of the canal boats. If possible, try to avoid narrow passages when the canal boats fare through. Remember that you need to yield for the canal boats! The canal boats are veteran boats with only a propeller aft and no bow thrusters, and there have limited maneuverability. If you meet a canal boat – quickly get out of its way. Below is an overview over where the watter passage is most narrow.
NB! There could be delays, and thus the times are not 100% accurate.
| | | |
| --- | --- | --- |
| Places to be extra cautious when meeting the canal boats: | Boat towards Dalen | Boat towards Skien |
| Hogga - 450 meters | kl. 13:50 | kl 12:25 |
| Kjeldal – 150 meters | kl. 13:20 | kl 12:45 |
| Lunde – 120 meters | kl. 12:50 and 13:15* | kl. 13:30 and 13:45* |
| Steinfoss – between Nomevann and ApalnesfjordenMellom Nomevann og Apalnesfjorden - 400 meters | kl. 12:25 and 12:45* | kl. 13:45 and 14:05* |
| Vrangfoss – western side - 1 km | kl. 12:05 and 12:25* | kl. 14:00 and 14:30* |
| Vrangfoss eastern side - 350 meters | kl. 11:20 and 11:40* | kl. 14:40 and 15:20* |
* = MS Telemarken in route from 18th June - 14th August (in 2022)